---
April 9, 2019
Florence (Italy)
Florence (Italy) was inspiring, and I can see myself going back there on a very regular basis.
---
February 9, 2019
Balloon pots
I've tried throwing pots to no avail, so consequently I stick with the hand-building of balloon pots.
---
February 9, 2019
Bookbinder
When I was in high school it took one of those aptitude tests. It suggested I become a bookbinder. On the way back from school that day I asked, "What in the world is a bookbinder?".
---
January 31, 2019
John
The other day John was the model at the weekly life drawing session. For a good time, I loosely matted the sketches I liked the most with leftover painted papers.
---
January 13, 2019
Charlie
For decades life-drawing sessions have been happening here in town, and this evening the model's name was Charlie.
---
January 11, 2019
Adventure paintings
On my Adventure (that's what I call it), I was determined to come way with things tangible. To that end, I painted more than sixty paintings, bound & filled about two dozen books, and took at least a thousand photographs. These are my favorite paintings of the lot. They each have a story, one from Avignon (France), Chicago, Philadelphia, and Rome.
---
January 9, 2019
Sunflowers, or "Channeling Vincent Van Gogh"
The first painting is based on something I saw at a sidewalk restaurant in San Diego (California). The second is a still life from my mother's kitchen table. The third was painted in Tucson (Arizona) over a Christmas holiday. Click the images for a closer look.
---
January 6, 2019
Sandra of Benajarafe (Andalusia, Spain)
This past Fall I took a week-long painting holiday to Benajarafe, which is along the Costa del Sol (Andalusia, Spain). Again, we ate well, saw regional sites, and had the opportunity to draw from a live model, Sandra. She dressed up in the costume of a Flamenco dancer.
---
January 6, 2019
Three digital sketches
Sometimes I use a drawing program to create digital sketches. The process is easy. Take photograph. Import it into the program on my iPad. Draw on top of it in a sort of "paint by numbers" way. Done. Here are two renditions of paintings by Cézanne, and a photograph taken in Provence.
---
January 5, 2019
An artist's education
As a part of my artist's education, I took a sort of leave-of-absense from my day job. Over that 10-month period of time I stayed/toured in quite a number of places/cities: Tuscany, Venice, Rome, Avignon, Chicago, Philadelphia, New York City, Rome (again), and bunches o' side trips to places like London, Paris, Leiden, Nice, Bologna, Florence, etc. All of these places and all of these experiences contributed to my "education". Click the images see more from each adventure.
---
January 5, 2019
Biography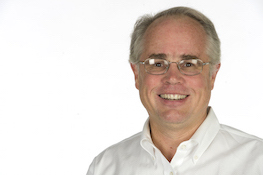 On a previous version of this website, my biography read:
Eric Lease Morgan — an emerging artist — has painted for several years. Creativity has always been important in his life.

Using acrylics, Eric passionately paints stylized flowers and nudes with bold impasto strokes and bright hues. "What appears on the canvas is a combination of what I see, what I feel, and what I believe to be the essence of my subject. When it comes to technique, the work is not done until there is enough paint on the canvas."

A nationally acclaimed librarian for more than twenty-five years, Eric spent much of that time writing computer software improving the ways of librarianship. "Believe it or not, writing software is a lot like writing music or poetry." Unfortunately, software development recently became stale because the medium grew too quickly obsolete. "It is very difficult to portray beauty in computer software. Believe me. I've been trying since 1976."

Eric is the son of Carol Morgan and the late Richard Morgan, both active for many years in Lancaster County's (Pennsylvania) art community. "I learned the concept of line from my mother, and my father gave me an appreciation for color."

Eric's other interests include music, playing many styles of guitar and a Baroque recorder, photography, folding origami flora and fauna, growing roses, and binding his handmade books.
As written, the biography is more or less accurate, mostly more.
---
January 5, 2019
Exhibits
To date, I have had the following exhibits:
Collaborative Pottery with Barbara, Fire Arts, South Bend (Indiana) – Summer 2018
Annual Faculty/Student Art Exhibit, South Bend Museum of Art, South Bend (Indiana) – May 2018
Figures & Flowers, First Unitarian Church, South Bend (Indiana) – December 2014/February 2015
Annual Faculty/Student Art Exhibit, South Bend Museum of Art, South Bend (Indiana) – May 2014
Allen, Vandygriff, & Morgan, Colfax Community Center, South Bend (Indiana) – January/March 2014
Boats On A Lake, Culver Coffee Company, Culver (Indiana) – March/April 2014
Flowers In A Shop, Grand Central Coffee, Lancaster (Pennsylvania) – January/February 2014
In My Aunt's House, Jonal Galleries, Columbia (Pennsylvania) – October/November 2013
Initial Outing, Art Beat, South Bend (Indiana) – July 2012
---
January 5, 2019
Artist's statement, again
I really don't understand "artist's statements". What are these things, and why are they important? What was Rembrant's artist statement? What about Picasso or Matisse? Did they have artist's statements? Why or why not? Why is an artist's statement necessary? Can't an artist's work speak for itself?
Despite these questions, I recently submitted a set of current work to a local gallery, and I was asked to submit an artist's statement. It read:
Eric's current direction includes the mixing of raw pigments with various mediums, and then applying the results to large-scale pieces of paper in a bold and expressive style. Intended to be experienced up close and personal -- if not actually touched -- Eric carves and sculpts his colors as if the observer is expected to feel the curves of the figure or the softness of the flower. There is zero attempt to create a photo-realistic image. Instead, Eric's paintings are things of the mind's eye.

While being an artist all his life, Eric has only been seriously painting since 2012. He is an accomplished presenter (acting and lecturing), musician (guitar, recorder, piano, and cello), author (travelogues, software, and scholarly articles), and craftsman (ceramics, origami, bookbinding, leatherwork).

Eric's formal training has taken place in South Bend, Florence, Chicago, Philadelphia, Rome, Avignon (France), and Malaga (Spain). Eric's informal training includes a thorough understanding art history in the Western tradition. Eric is an "autodidact".
---
January 5, 2019
Artist's statement
A long time ago, in a galaxy far far away, I posted an artist's statement on previous version of this website. It read:
Eric Lease Morgan's paintings and sketches identify beauty in everyday objects and characterize this beauty through color and line.

Using an impasto technique and acrylic paints Morgan captures and emphasizes the essence of his subjects — frequently flowers and nude figures. Most often these are based on real-world examples, yet many times come from his imagination. Lilies, irises, and roses are favorite subjects. It is not important to Morgan to make an exact representation of what he sees. "If I wanted to depict an object just as it appears, then I would take a photograph."

Using his iPad and a simple drawing application, Eric imports photographs and sometimes draws over them in a "paint by numbers" sort of way. Because the application does not support a large number of colors nor fine-grained brush strokes the resulting sketch brings out the essential characteristics of the image.

"There is beauty everywhere. All one has to do is open their eyes and see it."
---
January 5, 2019
Hello, World!
This is the home page of Eric Lease Morgan: An artist's eduction. It is the "place" where I plan to post & make available things like paintings, drawing, sketches, photographs, ceramics, handmade books, music, etc. Wish me luck.